OUR PROCEDURES
We offer a wide variety of cosmetic and restorative dental services for our patients so that each person has a customized and unique encounter when visiting our office. We offer Invisalign® clear aligners for teeth straightening, CEREC® same-day crowns, inlays and veneers, teeth whitening, dental implants, and much more. Not to mention, we provide dental cleanings and periodontal care. Dr. Staffel is certified to use nitrous gas, and has a Level II sedation permit so that our patients, when needed, can have a pain and stress-free experience.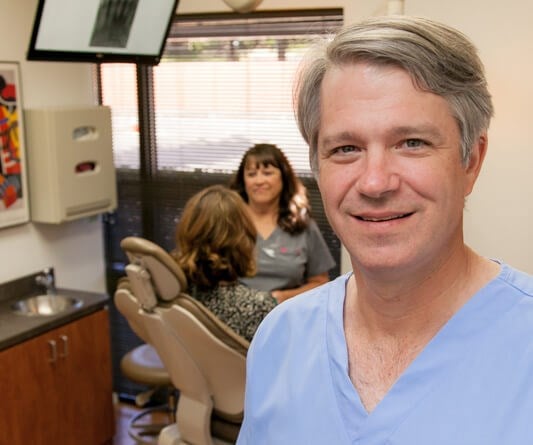 Meet Dr. Staffel
Dr. Scott Staffel is an exceptionally well-trained cosmetic dentist, who makes creating smiles look easy. He has spent his career making dreams come true and beautiful smiles a reality. Born and raised in San Antonio, TX, Dr. Staffel is a Texas native, and he earned his dental degree at the Baylor College of Dentistry in 1995. He maintains his comprehensive and preventative dental practice in Bedford, TX, and offers laser dentistry, sedation dentistry, and Invisalign® braces. An award-winning dentist, Dr. Staffel was named a "Top Rated Dentist" in Bedford, TX in 2016.
View Practitioner Pages
Reviews
I really appreciate that I can call with an emergency and be seen in most cases on the same day. The staff really cares about the patients. Dr. Staffel goes above and beyond to make sure the work is satisfactory and works extra hard to insure the treatment is completed in a timely manner
Dr Staffel does great work. I've had a lot of dental work done in my life and he is the best. Office staff is very professional and very friendly. I would highly recommend this practice.
The office staff is friendly, efficient, and helpful. I appreciate how much they care about their patients. Highly recommend!
Dr. Stassel is so very kind and patient. His staff is amazing also. Debbie is so sweet, loving and kind! I emailed on their website about the issues with my teeth.. she called me and made my appointment ! They very much care about each and every patient. I have searched for a experienced dentist like Dr Stassel for a very long time to help me with my teeth. He is unbelievable and I am utterly impressed with the whole office. I am still pinching myself that it is really true I found him -what a huge blessing it is in my life. Thank you Dr. Stassel and all your staff again. Patty Tyer
4.9
144 Total Reviews
About Us
Our dental practice at Staffel Dental is based on the belief that our patient's needs are the most important, and our entire dental team is committed to meeting those needs. As a result, we create beautifully strong smiles and guide the way for healthy gums and teeth for our patients of all ages.