Meet Scott M. Staffel, D.D.S.
Dr. Scott M. Staffel is a General Dentist and Owner of Staffel Dental, a comprehensive and preventative dental practice with an emphasis on Health, Restorative treatment, Cosmetics and Quality dental treatment in Bedford, TX. Dr. Staffel exudes a very positive chair side manner, and makes sure each patient is at ease from their very first meeting. This has earned him a reputation as one of the best dentists in Bedford, and many individuals and families in the Bedford Community trust him with their brilliant smiles. Dr. Staffel performs preventative, restorative, and cosmetic dental treatments and procedures for children and adults. With a lifetime of dental experiences, Dr. Staffel is an award-winning dentist, and has been chosen by the community as "Top Rated Dentist" in Bedford, TX for 2017 and 2018.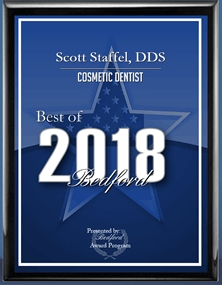 SPecial SKills & Training
Dr. Staffel is certified for laser dentistry, sedation dentistry, Invisalign® Orthodontics, CEREC® CAD/CAM same-day crowns, and Level II sedation with advanced cardiac life support. He is an exceptionally well-trained family dentist, who makes creating smiles look easy, dreams come true and beautiful healthy smiles a reality.
Dr. Staffel received his Doctorate of Dental Surgery from Texas A&M University Baylor College of Dentistry in Dallas, TX, and he has been brightening smiles ever since. In addition to his advanced degree, Dr. Staffel has extensive hours of continuing education, and has studied under many of the foremost leaders in the field, including his own father, Dr. Edward Staffel, D.D.S.
Dr. Staffel is a proud member of the following organizations:
American Dental Association
Texas Dental Association
Fort Worth District Dental Society
Baylor College of Dentistry Alumni Board (Member and President)
Dr. Staffel is a Texas native, who was born and raised in San Antonio, TX. He loves raising his family in this region of his home state. Dr. Staffel has 3 children, Mixson, Sarah, and Ben.
Reviews
"Great Place to get your smile on :)"
S.H.
Yelp
"It went very well. Thank you"
L.P.
Google
"Appointment date: Dec 2014 I have high dental anxiety and Dr. Staffel helps me through it so I have a positive experience when I go to his office. I just had my teeth bleached for the first time and I was really scared because I have very sensitive teeth- Dr. Staffel talked with me, eased my concerns and Lindsey was absolutely awesome. I am so grateful to her for helping me thorugh the procedure with no pain at all. If you need your teeth whitened, I would recommend calling soon. Dr. Staffel has a $200 off special going on certain days in December."
D.M.
Google
"There should be more stars on this rating. Dr. Scott Staffel and his entire staff are amazing. Friendly and courteous, they provide excellent services. I am one of those severely affected with "fear of dentists," but with Dr. Staffel and his staff I have no problems going to see him. The sedation is amazing and I have never had any fears sitting in that chair. Dr. Staffel does excellent work. I highly recommend Dr. Staffel."
M.C.
Google
"Great place Dr.Staffel and his staff are wonderful and professional my whole family goes here."
J.P.
Yelp
Related Posts